It seems there are subscription boxes for almost everything you can imagine. I must say I love the idea of having clothes and treats delivered to my door. Maybe it's my INTJ side, but I am not a fan of shopping. With Christmas around the corner, most of the subscription boxes are under $30 and make a great gift.
This post was fun to write because there truly is a subscription box for everything and more than I could possibly include. I tried to include companies that support non-toxic and organic as much as possible.
Subscription boxes make mail fun and a little mysterious. What a great gift for yourself and others. There are many subscription boxes for women, kids, men, dog lovers, and everyone in between. There really is one for everyone. Here's a list of over 25+ subscription box gift ideas for yourself or others, and to make Christmas shopping a little less stressful.
There's a subscription box for that
Great subscription box gifts most under $3o!
Culinary Experience
Of course, there are the tempting weekly meal subscriptions with organic produce, like Sun Basket. Then there's Piquant Post, a unique subscription that inspires one to cook with flavors from around the world. Every month receive new spices and recipes on how to use them. A great idea to spice up your normal routine. I know I could liven up my go to garlic, pepper, and salt routine.
For more gift ideas for the home chef, check out this gift guide
For the Drink Lovers
Angel's Cup is a great gift for coffee lovers. A great customizable coffee subscription. Just choose if you want grounds or whole beans, and your preferred roast. Then be treated with flavors from around the world.
Tea lovers will appreciate getting to try out 3 new teas every month along with a tea accessory. This one is under $20 a month.
Vinebox is an affordable monthly subscription to try 3 new wines by the glass. If you want the full bottle then go with Winc, and try new wines every month to find the perfect one.
Fashion Savvy 
For the fashion savvy or in my case fashion lazy. I don't like tiny dressing rooms, kids wanting to roll around on dirty floors and I end up sweating wanting to run out with my garment all twisted. I love the idea of effortless clothes shopping, just mail it to me.
For the women, there's Le Tote. It's kind of like Netflix for clothing. You keep it for as long as you want and send it back when you want something different. Looking for subscription boxes for the men, check out Trendy Butler, look good with the pain of shopping.
Jewelry
More subscription boxes for women, if your jewelry taste is more minimalist and dainty, then you'll love Penny & Grace's style.  For $20 a month, you get to KEEP 3 pieces of jewelry and no shipping fees, got to love that.
Intimates
Sock Fancy, another love of mine, socks. A friend of mine noticed I wore funky socks. So as a gift she purchased these fun little socks and ever since they have been my lucky pair. If quirky socks are your thing, check out or gift Sock Fancy, for the sock dork in your life.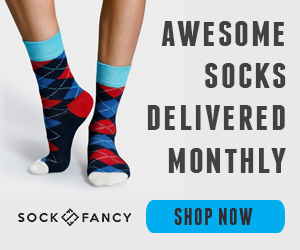 You can even have new draws delivered right to your door, Eby will deliver new undies to your door every month. Just select your style and color preference.
Just for Women
SinglesSwag, a single woman's subscription box, seriously there is a box for everything. Their box includes organic beauty, best-selling books, snacks, fashion accessories.
Subscription boxes for women monthly, Kali a monthly box to keep you well supplied for your monthly. Organic tampons mailed straight to your door every month, not a bad idea.
Ellebox claims to make your period magical (laughing a bit to myself), still cool though. Organic tampons and/or pads along with chocolates, teas, or other treats. Love that these companies are organic, the stuff inside tampons and pads is crazy toxic, more on that here.
Beauty Boxes 
Merkaela has a natural beauty wellness box, full of natural products.
Handcrafted Globe Trotter
Globein, is kind of like receiving an Etsy gift every month. They are affordable too, with a $10 or $33 monthly subscription. Get handmade beautiful products from around the world. They are apart of Ebates too.
Tip: Ebates I've known about them, but never signed up till recently. Kind of a no brainer, if you shop online why not get cash back?
Naturalist
Eccocentric Mom curates monthly boxes chocked full of organic, natural, and or hand crafted products for natural mom and baby care. Great for the naturalist mama. Four box categories available: pregnancy, mom & baby, mom & toddler, or woman. An awesome mama gift.
A fun subscription box for new moms, Healthiest is a fun box of natural care products for soon to be and new moms. What a fun way to count down through your pregnancy.
Family Fun
Subscription Boxes for Kids
Book Roo is a monthly kids book subscription. Nothing like story time and the books come wrapped like a present. Two new books every month, with two age groups to choose from 0-2 or 2-6.
Bramble Box for kiddos ages 3-7. They have flexible plans every month or every 3 to 6 months. No extra shipping fees either. Fun activity boxes every month for the kids. A company encouraging unplugged activities.
Creating Family Time
Box of Challenge this is a fun monthly box of brain teasers, puzzles, and challenges for 8-88yrs old, that creates fun quality time with family. An inspiration to keep family night thriving every month.
Subscription Boxes for Board Game Lovers
Awesome, well sounds awesome. Each box contains a board game, hands-on project (like a science lab), small game or activity, and extra family fun goodies. It's for the whole family with extras for the kids. The boxes are customized to your family's taste and you can choose between a family box or a big kid box. The Big Kid Box is for board game-loving adults.

Arts & Crafts Lovers
Art Lovers
Smart Art stay inspired with this box. Art is one of those things that melts time away as you lose yourself in your project. Past boxes included watercolors, calligraphy, pastels, etc. Try out a new medium every month and be inspired to work on your art, love this!!!
More Subscription Boxes for Craft Lovers
Ann Williams, for the craft loving DIYers this is a fun one. Stay inspired with supplies and a project every month. Choose your age group and have crafty fun delivered straight to your door. Boxes designed for 5 years old to adults.

DIY Style
Home Made Luxe for the adult crafters addicted to Pinterest. Pinterest inspired craft projects. Receive supplies and instructions to make your own home decor crafts that's Pinterest worthy. I am a Pinterest fanatic, so this is just awesome!
Pet Lovers
Subscription Boxes for Cat Lovers
KitNipBox for the cat lovers a monthly subscription box full of cat treats and toys.
Subscription Boxes for Dog Lovers
Pupjoy for the dog lovers. I know a floppy-eared 3-legged hound that would love this
Specialty
Subscription Boxes for Geeks
Powered Geek box, I can't really say this is my thing, but for the comic love, this box is for you. Every month get t-shirts, action figures, comics, and such.
Bookworms
Book Case a monthly box of books curated just to your taste. Its affordable and can be paused, if you fall behind on your reading. If you are a book lover, this is pretty cool.
Homesteaders
The Homesteading box, if you have a dreamy homesteader type, then this is just fun. Can I say it again? A box for everything. Boxes start at $25 month, they keep the contents a surprise. Part of the mysterious fun I suppose, but its handpicked items to sharpen your homesteading skills.
Outdoorsy
Nomadik an adventure gear monthly service to keep you well supplied and inspired to get in the great outdoors.
Conclusion
Are you inspired? I know several I want to join for myself and that would be perfect for others. With the holidays here take some of the stress out of shopping with subscription box gifts, most under $30. Which one sounds awesome to you?
You May Like This…